Official Web Site of - Luther Kent
Luther Kent was born in New Orleans, Louisiana. At age 14 Luther began singing professionally and signed with Louisiana based Montel Records. His first record was released under the name of Duke Royal, and the song was "I Wanna Know". Luther toured the country for a three year period while being managed by Walt Daisy who also handled ... read more
Blues and soul man Luther Kent hasn't made a CD in four years, the news on this one is that it includes some of the last sessions by the great producer Wardell Quezergue (who died in fall of 2011). Trouble is that the jumbled CD credits don't tell you which those are, nor do they say which of the many players (including notables like keyboardist David Torkanowsky, the late drummer Herman "Roscoe" Ernest and the Bonerama horns) play on which tracks.
The disc was clearly recorded at different sessions over a few years and it sounds that way; but a little diversity never hurts. read more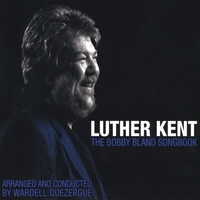 The Bobby Bland Songbook
Luther Kent caps a forty plus year career as a roots artist with a deft re-imagination of the Bobby Bland canon into blues-tinged big band standards with help from charts by New Orleans arranging legend Wardell Quezergue.
Cool Links
Be sure to visit some of my good friends ...
For Booking Information complete our online Contact Form or call: 225-577-3925.